Technical Information: One-Shot Casting Process
Download the PDF version of this document
What is One-Shot Casting?
Plaster mold casting is a method of producing aluminum, zinc or magnesium castings by pouring liquid metal into plaster (gypsum) molds. At Armstrong RM, there are two methods of plaster mold casting:
Rubber Plaster Molding (RPM): Patterns create foundry tooling that makes copes, drags and core boxes used to create the plaster molds.
One-Shot Casting: Plaster is poured directly on patterns, which are melted out in a furnace cycle.
Following is the process for the One-Shot method of making plaster mold castings.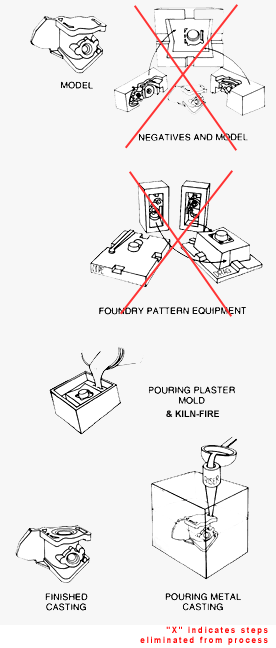 Step 1: Model/Pattern
Constructed from customer drawing or CAD file.
Laser-sintered patterns are produced.
Model is engineered to include:
A) Metal shrinkage.
B) Mold taper (if required)
C) Machine stock (if required).
We can "clone" or adapt customer supplied model if requested.
Step 2: Plaster Mold
A liquid plaster slurry is poured around the pattern.
The plaster mold is heated in a furnace to melt out the pattern and cure plaster.
Step 3: Pour Casting
Molten metal is prepared by degassing, and a spectrographic sample is taken to check the chemical analysis.
The molten metal is then poured into the plaster mold.
The plaster is removed by mechanical knock-out and high pressure waterjet.
When the casting has cooled, the gates and risers are then removed.
Step 4: Secondary Operations
The raw castings are inspected and serialized.
Castings may then require (per customer specifications):
A) Heat treatment
B) X-Ray
C) Penetrant inspection
After finish inspection, casting is ready for:
A) Machining
B) Chemical film, chromate conversion, paint
or special finishes
C) Assembly
D) Form-in-place gasketing.
Download the PDF version of this document