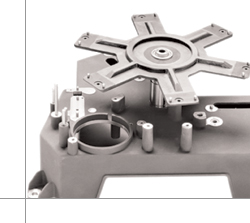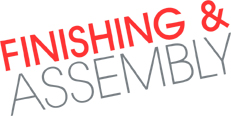 Finishing & Assembly Operations
At Armstrong RM, we don't sell you parts; we deliver products. For all of our molding, casting and machining processes, we provide a complete package of services that includes finishing, assembly and decoration.
One-stop shop for all value added services facilitates on time delivery
Turnkey services for all aspects of mechanical component process flow.
- - From design input through complete "to print" assembly
Armstrong RM's finishing & assembly operations include assembly, quality verification, special heat treating, cosmetic finishing, and gasketing for RFI/EMI shielding.
Paint finishes can include urethane finishes, textured paint, RFI/EMI nickel-acrylic shielding, spray-fill and primer.
Inventory handling support and special packaging are always available for unusual shipping requirements.