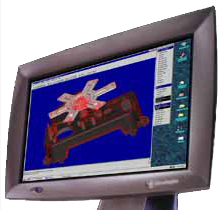 Computer-Aided Design (CAD)
At Armstrong RM, our CAD department constantly updates its capabilities for all current computer hardware and software. We are experts in Pro/ENGINEER, SOLIDWORK and SURFCAM, to name a few.
Reduce file interpretation errors
Tooling and hogouts are produced directly from designer's database
Direct transfer of designer's intent
Internet file transfer = time savings
We can take existing files, or we can create one to your exacting needs and specifications. In either case, we will carefully review the requirements of the final process to meet your highest quality standards for production.
Armstrong RM's CAD capabilities are especially important when product designs require modification for production. Combining our manufacturing expertise with are CAD skills, we can take care of all of the modifications for you. For example, we can take your "as-machined" product definition and create the required "as-cast" data to gear up for tooling.
We also offer rapid prototyping with stereolithography to provide quick prototypes from your CAD data. The stereolithography system is also used to rapidly construct patterns for our Rubber Plaster Molding, Precision Airset Casting and Rapid Injection Molding services.
Free up some of your time. Let Armstrong RM take care of all of the CAD details for your next job.
Stereolithography
Stereolithography is a rapid prototyping process used to create 3D models of any complexity from CAD files. Solid CAD data is sliced into thin cross sections. A laser generating a UV beam is moved across a vat of photosensitive liquid polymer by a scanning system. The laser draws each cross section, turning the liquid to solid. Successive cross-sections are built one upon another to create a three dimensional plastic model.
CAD Software at Armstrong RM
SolidWorks
Pro/ENGINEER
SURFCAM
To see what data types we can accept, view the chart at file types.